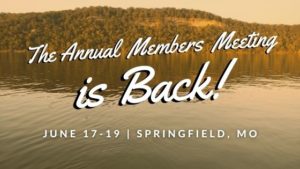 It's been FAR too long since we have had an Annual Members Meeting in person for everyone!
In 2019, the OLT board, staff, and members gathered at Huzzah Creek to learn about the great work we and our partners accomplished while protecting and restoring lands in the Meramec River watersheds. And now, it's time to meet again!
This time, we will be in Springfield, Missouri, on the grounds of the beautiful Watershed Center for our meeting, with receptions and nature visits throughout the weekend. 
Have fun and learn as we:
Update you on our newly protected lands and other conservation activities across the Ozarks.
Listen to a great panel of experts on how community conservation is evolving to support water, open space, plus other regional needs, and how collaboration plays an essential role in that work.
Enjoy receptions at a local Springfield eatery and a wonderful brewpub.
Provide you with an opportunity to learn and experience lands in the region protected by OLT and others.
The fun begins on the evening of Friday, June 17, and activities continue through mid-day Sunday.
You can join us for some or all of the weekend fun! The Members Meeting will be at 11:30 on Saturday, June 18. Lunch is on us!
Already a member? RSVP HERE
If you're not a member or would like to become one, JOIN OLT then RSVP for the weekend events.
We are excited to see you in Springfield and we are thrilled that we can experience nature together. The OLT Annual Members Meeting is generously supported by Mountain Dew Outdoor Grants, Community Foundation of the Ozarks, and Merrill Lynch Wealth Management.
See you in June!