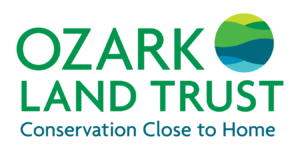 JOIN US FOR THE 2022 OLT ANNUAL MEETING IN SPRINGFIELD, MO!
Dear Friends:
We are so excited to invite you to the Ozark Land Trust Annual Meeting in Springfield, Missouri the weekend of June 17-19!
We look forward to meeting with you in person for the first time since 2019, to learn about what you've been up to and to share our recent work to protect and steward land across the beautiful Ozarks!
Here's the schedule: 
Friday, June 17, 5:30 pm: A community reception at Tea Bar and Bites, 621 S. Pickwick, Springfield 65804 from 5:30-7:30. OLT will provide hors d'oeuvres for all, with a cash bar available. Limited to 50 attendees, so please RSVP early and we will advise on availability.
Saturday, June 18
11:30 am -2:00 pm: OLT's Annual Members Meeting, Luncheon and Panel Discussion at the Watershed Center at Valley Water Mill Park, 2400 E Valley Water Mill Rd, Springfield 65803. 
Panel discussion on Conservation in Springfield and Southwest Missouri:
Community, Climate and Partnerships. Including Brian Fogle, CEO of the Community 
Foundation of the Ozarks; Loring Bullard, author of The Springs of Missouri; and more.
Moderated by OLT Executive Director Larry Levin.
OLT's Annual Presentation to Members on Conservation Activities and Operations.
Meet our newest OLT Board Members and Officers.
Lunch provided by OLT.
3-5 pm: A Field Trip to Ozark, MO and the wonderful public private collaboration supporting community conservation work being done along the Finley River.
5:30-7:30 pm: Join us for an outdoor social at Wire Road Brewery, 4453 S Timbercreek Ave, Battlefield, MO 65619 (drink ticket provided by OLT);  bring your lawn chair, as it's a busy place! OR stay in Ozark and enjoy the Ozark Mill Restaurant at Finley Farms. 
Sunday, June 19: An optional Field Trip to one of OLT's protected lands along Bull Creek in the greater Springfield area. Learn more about the natural resources along this pristine and very important water resource! Limited space so please let us know early and we'll advise on availability, transportation and other details.
The Watershed Committee of the Ozarks is graciously hosting us at the beautiful Watershed Center.  Our 2022 outreach meetings are supported by Mountain Dew Outdoor Grants, and both Merrill Lynch Wealth Management and Community Foundation of the Ozarks are providing additional substantial support for our Annual Meeting.
RSVP info is on the back of this letter. We look forward to seeing you in June!
Sincerely,   
Jim Reeves, President Larry Levin, Executive Director 
---
HOW TO RSVP FOR THE OLT ANNUAL MEETING AND ADDITIONAL INFORMATION ABOUT THE VENUES.
Friday: Tea Bar and Bites Reception: http://teabarandbites.com/index.html
Saturday: 
Members Meeting, Watershed Center: https://watershedcommittee.org/the-watershed-center/
City of Ozark Info: We will send specific itinerary info and directions to those who RSVP
If you're interested in visiting the Ozark Mill Restaurant for dinner, here's the info: https://finleyfarmsmo.com
Wire Road Brewing: https://wireroadbrewing.com
Sunday: Field Trip to OLT Protected Land: We will send itinerary info and directions to those who RSVP.
Need a hotel? There is a variety of hotels within ten miles of the Watershed Center. Feel free to drop us a line if you have any questions or need suggestions.
THREE WAYS TO RSVP FOR THE MEETING:
1. COMPLETE THIS PAGE AND RETURN TO: OZARK LAND TRUST, PO BOX 1512, COLUMBIA, MO 65205. WE NEED TO RECEIVE YOUR RESPONSE BY JUNE 3 FOR OUR HEADCOUNTS FOR EACH EVENT, SO PLEASE MAIL BY NO LATER THAN MAY 27!
2. SEND YOUR RSVP TO [email protected] AND INDICATE WHICH EVENTS YOU CHOOSE TO ATTEND. OR JUST SCAN AND EMAIL THIS FORM WITH YOUR RESPONSE.
3. CALL AND LEAVE A MESSAGE AT 573 817 2020 AND INDICATE WHICH EVENTS YOU CHOOSE TO ATTEND. PLEASE LEAVE YOUR NAME AND PHONE NUMBER CLEARLY! 
WE WILL ENDEAVOR TO CONFIRM EVERY RESERVATION AND TO LET YOU KNOW IF EVENTS ARE ALREADY FILLED!
NAME(S) _____________________________________________________________HOW MANY ATTENDING____
ARE YOU A MEMBER/SUPPORTER OF OLT? ______
ADDRESS _______________________________________________________________________________________
EMAIL _______________________________________________________________PHONE: ____________________
I/WE PLAN TO ATTEND THE (CHECK ALL THAT APPLY):
FRIDAY RECEPTION ____MEMBERS MEETING AT WATERSHED CENTER ____ 
OZARK FIELD TRIP____ WIRE ROAD BREWERY SATURDAY EVENING _____
SUNDAY FIELD TRIP TO OLT LANDOWNER PARTNER SITE ON BULL CREEK _____