Annual Members Meeting
May 4, 2019
Ozark Regional Land Trust - 35th Anniversary
Enjoy gathering with ORLT members, friends, staff, volunteers and board members on the beautiful Huzzah Creek at Huzzah Valley Resort in Steelville, Missouri.
Business meeting with be followed with a float trip on the Huzzah!
Mark your calendars and watch for further details in your mailbox, on the website, on Facebook or in your email. Join our Email list by subscribing to the form on the right!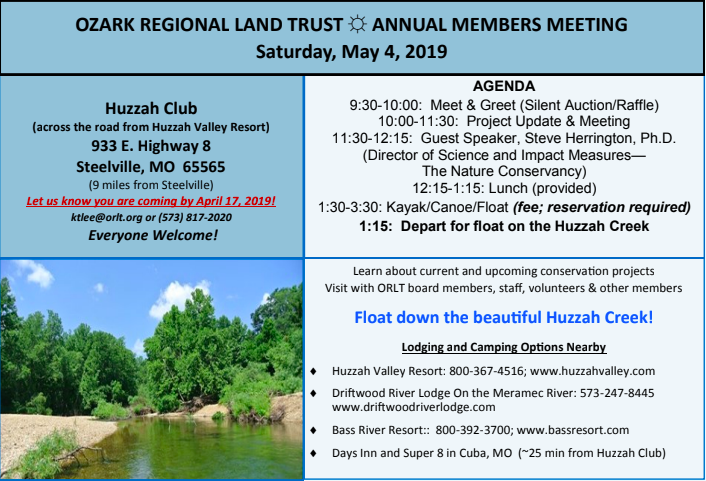 Lodging Information
Huzzah Valley Resort (spaces may be limited)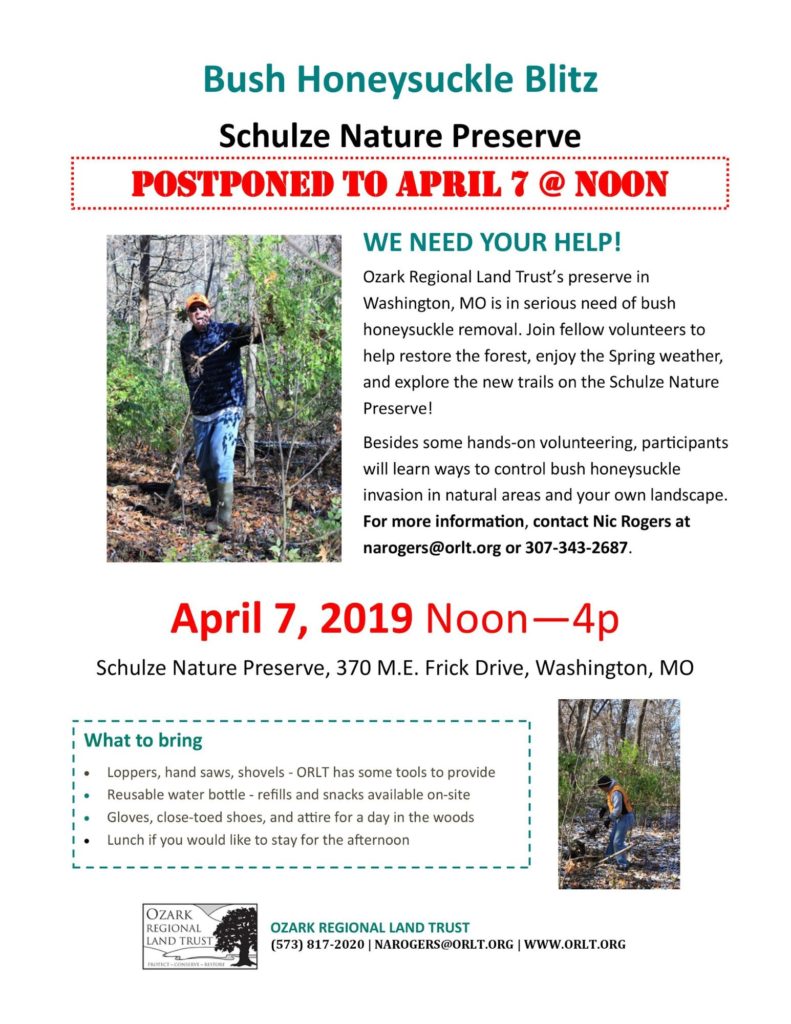 Annual Member's Meeting & Guided Missouri River Canoe Float Trip - Saturday, June 9th 9:30am
Join us for our annual member's meeting where we will discuss the future of ORLT and take time to enjoy our beautiful Ozarks with a guided canoe tour!
Saturday, June 9, 2018
Orr Street Art Studios 106 Orr Street Columbia, MO
Pre-registration required for both the meeting and the float trip. Email: [email protected] or call the ORLT office at 573-817-2020. Float trip cost is $35.00 per person
Special Guest Speaker – Dave Murphy, Missouri Department of Conservation Commissioner
Agenda
9:30 – 12:15 Membership Meeting
12:15 – 1:00 – Lunch (provided)
1:15 – Depart for Missouri River Canoe Trip
After lunch, drive to Rocheport (20 min. west) for a canoe trip led by a Lewis & Clark historian and River naturalist with Mighty MO! ORLT members will join board members and staff on a guided canoe trip from Rocheport, MO downriver to Huntsdale – a total paddle of 6.6 miles on the Missouri River. Might MO's super stable touring kayaks and canoes make this trip do-able for beginners and long-time paddlers alike. Most first-timers are amazed at how accessible, easy & safe their first paddle on the Missouri River can be. We'll use the river and the sandbars as our classroom as we talk about the area's Lewis & Clark history, how the river has changed in the last 200 years and more! Once we arrive in Huntsdale, you can ride back in the Mighty-MO shuttle vehicle or grab your bike off their shuttle's bike rack and pedal the 6.6 miles back to Rocheport. Visit http://www.mighty-mo.com for more information.
Wood's Prairie Evening Wildflower & Pollinator Walk June 22 from 6:00 - 7:00 PM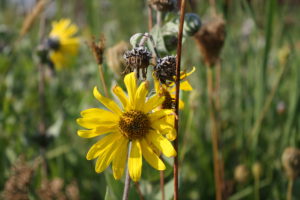 Save the Date!  The Woods Prairie Evening Wildflower and Pollinator Walk is happening June 22 from 6:00 - 7:00 p.m.
Call the ORLT office at 573-817-2020 or check back here for more details as they become available!
Schulze Nature Preserve Grand Opening - Saturday, May 5th 11:00am - 1:00pm
We are incredibly pleased to announce the grand opening of the Schulze nature Preserve in Washington, Missouri.  After much planning, hard work, and dedication by volunteers and staff the Schulze Nature Preserve is ready to welcome the public and showcase the beauty and nature of our Ozarks.
Join us Saturday, May 5 from 11:00 a.m. – 1:00 p.m. in Washington, Missouri! Ozark Regional Land Trust will be welcoming guests and giving guided tours to showcase this wonderful property.
Directions:  When coming from the east on Highway 100, turn right onto Bluff Road at the signal (left if you are coming from the west) on the western edge of Washington.  A short distance will bring you to a split in the road where it meets Westlink Drive at the beginning of the industrial park. Turn to the left (this will still be Bluff Road even though you will be turning), go up the hill, and then turn at the first road on the right: ME Frick Road. (You will see Frick's Quality Meats on your right.) Take this road a short distance up a hill, and there will be an entrance road for Frick's straight ahead when ME Frick Road turns to the left.  Take this road straight to the bottom of the hill where the pavement ends. The last gravel parking spaces are part of the preserve.
Earth Day Cleanup in Sarcoxie, MO - Saturday, April 21st 10:00am - 1:00pm
Ozark Regional Land Trust is pleased to invite you to an upcoming Volunteer Workday at Sarcoxie Cave and Spring in historic Sarcoxie, MO on Saturday, April 21, 2018 from 10:00am – 1:00pm.
We need your help! Come kick off Earth Day Celebrations by helping ORLT and Sarcoxie clean up this important area! We will be clearing invasive plants, disassembling a foot bridge that needs rebuilding, cleaning up trash, and taking water quality samples as part of the Sarcoxie Stream Team.
There is no electricity or running water at the site. Please bring work gloves, loppers, hand-saws, shovels, drinking water, a picnic lunch if you like, and a friend! ORLT will provide extra water to refill people's bottles and trash bags.
Please contact Nic Rogers at [email protected] or (307)-343-2687 if you have any questions. We look forward to seeing friends old and new in Sarcoxie! Thank you for all of your help!
Directions to Sarcoxie Cave and Spring:
Sarcoxie Cave and Spring is right off the town square in Sarcoxie, MO.  From east or west on Highway 44, take Sarcoxie exit #29 and go south into town. Just past a small grocery on the left, turn left on 5th Street. Go one block to the square and turn right onto Cross Street. Continue straight ahead just past the square, cross a small bridge and railroad track and you are there. Google Maps link to property: https://goo.gl/maps/cTwkbf7ckwn
End-of-Summer Trail Workday at the Schulze Nature Preserve - Saturday, August 26th
Dear Friends of the Schulze Nature Preserve,
Please join us on Saturday, August 26th at 9am for our end-of-summer trail workday at the Schulze Nature Preserve.  The forest at the SNP is lush this time of year, and those of you who have not been to the site since February or March will get to visit a completely different place. Those of you who have not been to the site yet will get to see a hidden gem before it opens to the public.
We will be doing final preparation work on a new loop that has been added to the trail, clearing summer growth and fallen limbs from the southern trail, as well as a collection of other tasks as we get ready for the SNP's fall opening. Thanks to the generous help of volunteers like all of you, the trail is almost done!    
ORLT will be providing some tools as well as light refreshments, so most volunteers will just need to bring work gloves, water, and bug spray. If you are interested in attending, please contact Alex Hayter, Project Coordinator, at [email protected], by 5pm Sunday, August 20th for directions, weather updates, as well as further information. We hope to see you there.
Sincerely,
Alex