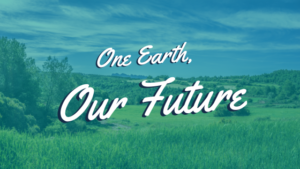 Wishing you a Happy Earth Day! We have a lot of news about OLT in today's issue, including upcoming meetings, volunteer days and a memorial to one of our great partners.
OLT Annual Members Meeting: June 17-19
If you're a member of Ozark Land Trust, we hope you'll join us June 17-19 for our Annual Meeting at the Watershed Center in Springfield, Missouri!
https://watershedcommittee.org/the-watershed-center/
We'll have receptions and a great field trip showcasing some of the tremendous conservation work in Springfield and Southwest Missouri. Our Members Meeting on June 18 will feature some great guest speakers. Please watch this space, our Facebook page and our website, and we'll be sending out mail about the event in early May.
Save the Dates! OLT's 2022 meetings are supported by Mountain Dew's Outdoor Grants program.
Support OLT on or before Give St. Louis Day
The window is open to support OLT through the Give STL Day campaign offered by the St. Louis Community Foundation. We'd love to have your support, and you can give now or anytime through May 5.
As many of you know, OLT protects a wide variety of lands in the greater St. Louis area, from Missouri River bluffs in St. Louis County, to Katy Trail viewsheds, to working farms, to a garden preserve in Hillsboro and a nature preserve in Washington.
You can support OLT by visiting https://www.givestlday.org/ozarklandtrust
Sarcoxie, MO Volunteer Day
Here's a great opportunity to get out on one of our nature preserves in Southwest Missouri, learn about the unique cave on the site, and help us with trail planning, weed pulling and cleanup. It all starts at 11:00 AM on May 14; bring your lunch and we'll provide drinks, snacks and treats.
For more info, contact our Conservation Specialist Abby Cyr at (320) 217-4979 or at [email protected].
For more info about Sarcoxie, visit https://www.sarcoxiemo.gov
Our Regional Meeting April 2nd: A Great Time!
About 40 OLT members, partners, board and staff gathered for a tour of one of our protected lands overlooking the Katy Trail and Missouri River in St. Charles. A great time was had by all, as we were treated to both river and grassland hikes by our landowner partner and naturalist Scott Woodbury.
Then we headed over to the Lewis and Clark Boat House on the river in St. Charles, and got to visit and chat about the work OLT does to conserve lands across the Ozark region.
We look forward to both our Annual Meeting in Springfield and our Fayetteville, AR regional meeting on September 24.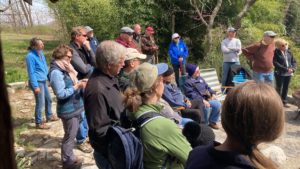 In Memoriam: Lorraine Keller
Our great Lorraine Keller, passed away in early April. Lorraine and the Hawk Hill Community Land Trust have been OLT's longtime partner in land trust, and our board and staff are very saddened by her passing.
To learn more about Lorraine and her wonderful life, friends and family, visit https://www.columbiamissourian.com/obituaries/family_obituary/lorraine-keller-sept-13-1948-april-5-2022/article_1048d004-b746-11ec-875f-7f52a7e091ea.html