ORLT will be Broadcasting LIVE for Give Ozarks (Tuesday, May 9th)
Ozark Regional Land Trust is excited and thrilled to be coming to you live via Facebook Live on #Give Ozarks Day! You can tune in on your smartphone, tablet, or desktop computer. Join this event to receive updates by clicking here.
We will be broadcasting live throughout the day beginning at 12:00 am (midnight) early on Tuesday morning and host our main broadcast from 6:00 am till 9:00 am. You will receive live updates and even be able to ask our hosts and guests questions in real time!
In the meantime, enjoy this video featuring many of the properties protected by ORLT as well as other beautiful Ozark locations, wildlife, and plantlife.
Mark Your Calendars: May 9th #GiveOzarks – 24 hours of giving to support the future with ORLT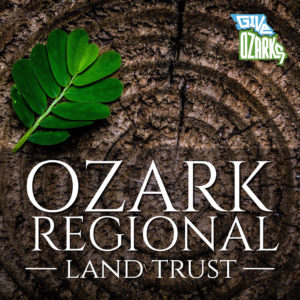 Support the Ozarks and your donation will be matched 2:1 on May 9th during #GiveOzarks, an exciting on-line full day of giving. Starting at 12:01 a.m. early Tuesday morning and ending that night at 11:59 pm, this special on-living giving campaign will raise dollars for ORLT's Endowment Fund – a long-term lifeline of support to help landowners protect and conserve the Ozarks – forever.
That's right! For one day only, a challenge match of 2:1 is happening on May 9th. Your gift of $25 will become $75 – a generous supporter challenges ORLT to raise $10,000 for its endowment, a permanent savings account.
#GiveOzarks is also about having fun, reaching goals, and learning more about conservation and the Ozark conservation community. 
And that's not all!  Over $100,000 in prize money is up for grabs by the more than 200 organizations participating this year, some of which could be awarded to ORLT during this 24-hour period. Every time a donation is made to ORLT during a separate one-hour time period it increases the chances for ORLT to win top prizes from the event sponsors and the Community Foundation of the Ozarks for the Endowment Fund.

ORLT's Target Time Blocks and Prizes
Strategy is important and we ask you to consider donating during this prize windows:
Midnight – 1:00 a.m.
This is for our night owl supporters! Go on a midnight owl prowl in your PJs! Opportunities like this don't come often. Join ecologist Dennis Figg at midnight on the ORLT Facebook page during the first hour of #GiveOzarks for an exciting opportunity to learn more about the amazing life of owls! Donate and help ORLT win the $2,000 Quick Start prize!
6:00 a.m. – 8:00 a.m.
For those up and around in the morning, we encourage you to donate during this time to increase our chances of winning a $2,500 prize during these hours. We will be broadcasting live on the ORLT Facebook page with guests and live updates throughout the morning.
8:00 a.m. – 9:00 a.m.
The agency that raises the most money in this hour wins a $5,000 prize! Remember - this all goes to grow ORLT's Endowment Fund!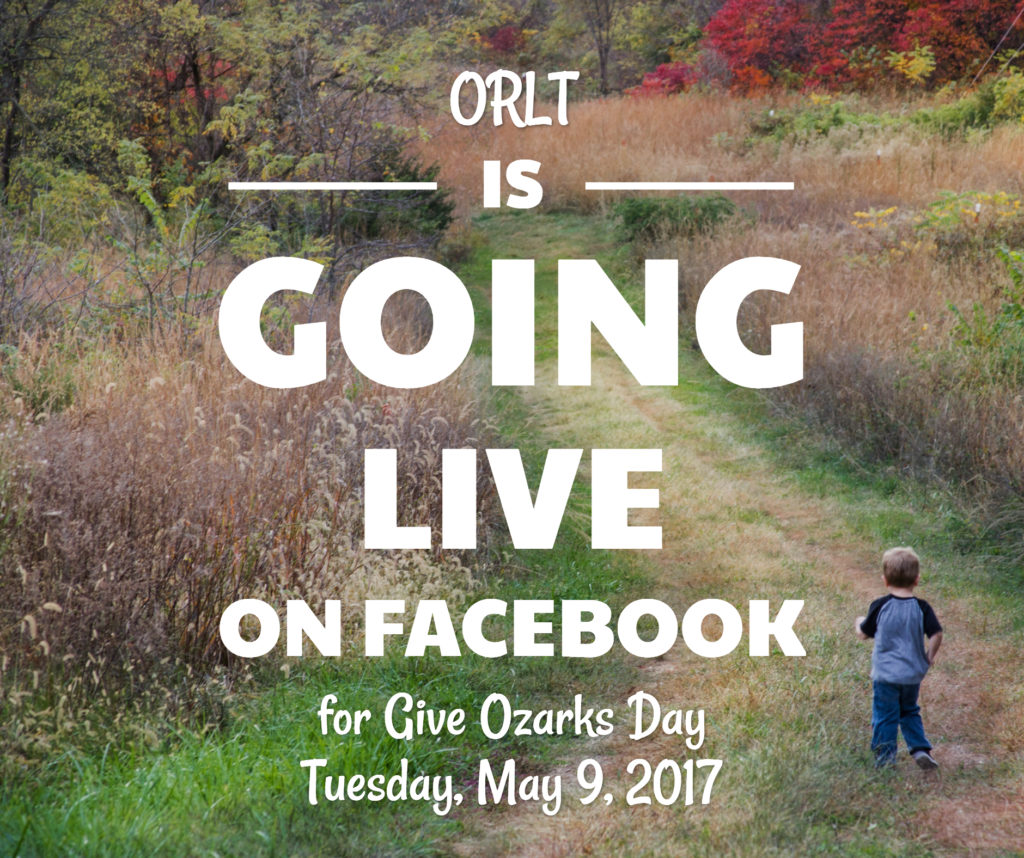 Log into to www.giveozarks.org on May 9th and search for Ozark Regional Land Trust. You'll find information and videos there, on our website, via e-mail, and Facebook. Join us on Facebook Live between 6:00 – 9:00 a.m. for interviews with community volunteers, ORLT staff, and board members.  Join in the discussion during this live session – connect, ask questions, and hear the latest updates! You'll also be able to watch how your donations climb up to reach the goal and meet the challenge match as the day progresses!
Check out these fun opportunities on ORLT's Facebook page during #GiveOzarks on May 9th!