Exciting times for 24 hours of giving – all to support ORLT's future.
May 9th is #GiveOzarks, the 24-hour online giving day sponsored by the Community Foundation for the Ozarks (CFO). And this year, CFO will match dollar for dollar any contribution made that day to ORLT - up to $5,000.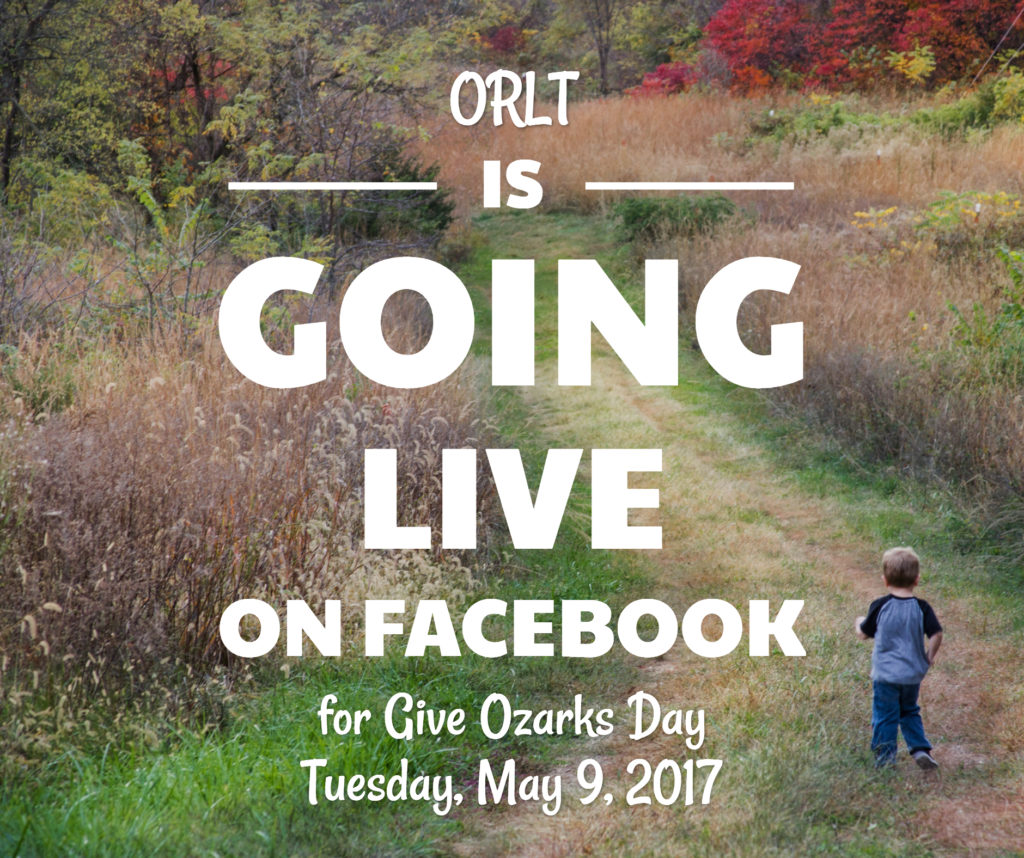 All the action starts at 12:01 AM on Tuesday, May 9th at giveozarks.org. ORLT volunteers and staff will be broadcasting live on Facebook throughout the day with special guests and updates. AND there are cash prizes each hour awarded to the participating nonprofits – some will be luck of the draw while others are awarded based on the number of gifts or number of new donors that hour.
This year, #GiveOzarks contributions will be placed in ORLT's Operations Endowment Fund – a long-term, lifeline of support that will enable us to assist landowners protect the Ozarks that we all love. Your money will be placed into a special "savings account" – and only the interest from the account may be used annually for operating expenses.
Will you support the long-term sustainability of ORLT and make a donation on this day? Will you contact your family and friends and encourage their giving, too? Like and repost ORLT on Facebook – and follow the action – and help raise $10,000!
Your endowment gift will sustain ORLT's critical work to protect Ozark lands forever.  A gift to ORLT's endowment is a legacy gift for the Ozarks.
Questions? Contact ORLT at:
Phone - 573-817-2020
Email - [email protected]
Facebook - facebook.com/OzarkRegionalLandTrust/

The Stewards of Ninestone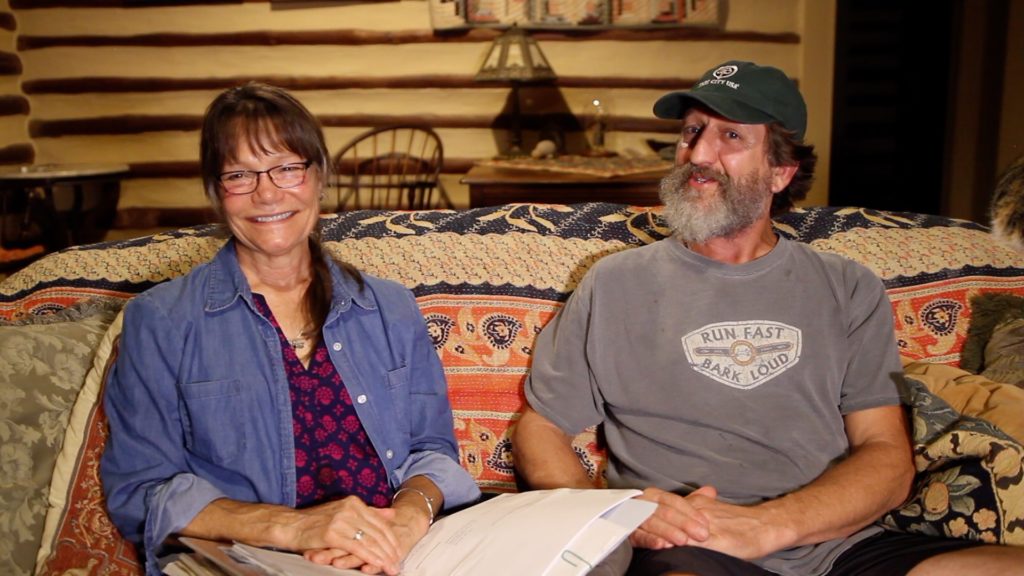 Nestled in the Arkansas Ozarks, is a hidden paradise and haven for all who live and visit it. Home to 70 foot bluffs, woodland, savanna, and a private waterfall, Ninestone is a wonder to behold.
Perhaps the only thing more remarkable than the property's beautiful features are its stewards, Don Matt and Judy Griffith, who have made the property their home. They have dedicated much of their lives not only to the preservation of this land, but to its rehabilitation to the natural state as if man had never set foot on it. It is a sanctuary for native species of plants and wildlife.
"The best way to protect something is to have responsibility for it." - Don Matt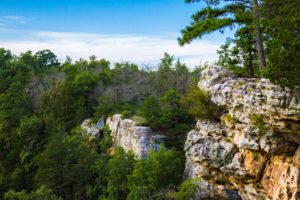 They believe in living in harmony with the land and wildlife and have a great respect for both. They have a large garden which provides much of the food they eat as well as a chicken coop. With each year and new season, they work to restore habitat to its natural state by removing invasive plants and replacing them with native species. This in turn attracts and helps native insects which are vital to the native bird, reptile, and small mammal populations, and up the food chain.
Judy has a particular fondness for flowers and plant life and has worked with several agencies, including the Arkansas Native Plant Society and Arkansas Natural Heritage Commission.
"As a child, I felt completely protected and embraced by nature and by the forest. And I realized as an adult that it was my job to protect it back." - Judy Griffith
While Don, can often be found in the early mornings and even moonlit nights, running the property with his best four-legged friends, Gabriel and Barli.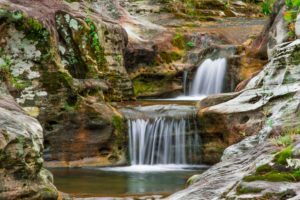 In 1992, Judy and Don, along with several like-minded friends, decided to find a parcel of the Ozarks where they could live off the land and protect it from development. Originally looking for about 40 acres, they put together a "wish-list" of what a perfect property would contain. The list included: living streams, scenic bluffs, open areas, forest, and a waterfall. When they visited Ninestone, their wishes came true. It was perfect.
Although the property was 10 times the size they expected to buy, the 400 acres were too perfect and in need of stewardship to let go. They pooled resources, acquired the land, and started their journey of rehabilitation and restoration for everything that lived there.
With each passing year, they witness more native plant and wildlife returning and thriving in their shared home, Ninestone. In just the last 6 months, they had the first photo confirmation of a Black Bear inhabitant since the late nineties.
Today, they continue to curate and steward the land, bringing them both fulfillment and happiness. They are the pinnacle of what it means to be a friend of the land and Ozark Regional Land Trust is proud to know them and be part of their conservation efforts at Ninestone.

The Results of Prescribed Burning (Woods Prairie Update)

On Friday, February 3, ORLT, the Missouri Prairie Foundation, and several volunteers helped with a prescribed burn on a portion of Woods Prairie Nature Preserve in Lawrence County, MO.
Just six weeks later, the beautiful results of the controlled blaze can now be seen in the form of Prairie Dogtooth Violets. Stay tuned for more updates and images as the natural Woods Prairie flowers come to life for Spring and Summer.