Dear Friends of Ozark Land Trust:
A lot happened at OLT during 2022, and much more is on tap for 2023.
In this last edition of the year, we look back at our accomplishments, fondly remember a great friend, and look forward to the coming year.
A 2022 Recap
With things looking more "normal" with the pandemic waning, OLT's activities looked less Zoom-like and more like they did prior to 2020. A few highlights:
We were able to visit with you three times in 2022. We had regional meetings in St. Charles, MO, and Fayetteville, AR, and our Annual Meeting in June was in person for the first time since 2019, in Springfield, MO. We visited conservation easement-protected land in St. Charles and our own New Pear Farm property in Fayetteville. The Annual Meeting was a great time and we thank our friends at the Watershed Center for your gracious hosting!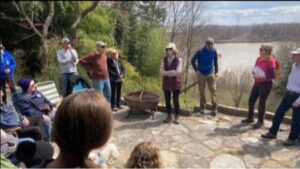 Board member Karen Massey became OLT's President; we added three new Board members across Arkansas and Missouri – Dr. Diana Gray, Peter Hofherr, and Dani Hoefer, and we continued to build our Members Advisory Committee.
We permanently protected almost 1,000 more acres with three more pieces of land due for protection in early 2023.
We continued to build the Missouri Land Trust Coalition along with our great Missouri land trust partners (www.missourilandtrusts.org), with great partnership and assistance from the Land Trust Alliance and the Missouri Department of Conservation.
As always, we stewarded and monitored ALL our protected properties, now over 31,000 acres and counting!
We have incorporated climate, community, and partnership fully into our strategic and action plans. In addition to our continued work with a variety of landowners, these focal points will allow us to create new conservation opportunities in a number of ways — protecting resilient lands, securing open space for communities and joining with nonprofit and agency partners to preserve key natural resources.
We received national recognition from the Fishers and Farmers Partnership for our longstanding work, in conjunction with many valued partners, in the Huzzah Creek and Meramec River watersheds. https://ozarklandtrust.org/ozarks-huzzah-creek-cited-as-10-waters-to-watch-in-2022/
We received tremendous support from all of YOU, for which we are incredibly grateful.
We are so appreciative of all you do with us, for us, and in support of conservation in the Ozarks.
We THANK YOU and look forward to more conservation, protection, and natural beauty in 2023!!!!!
A Tribute to John Cutler
The OLT community lost an incredible friend in the recent passing of Dr. John Cutler. His amazing life and passion are reflected in the remembrance by our founder Gregg Galbraith, and can be found here.
Great News from Congress 
In the major omnibus bill passed by Congress at year's end, not only were there a variety of provisions that provide funding for conservation-related efforts but there was a major victory for land trusts as well. The Charitable Conservation Easement Program Integrity Act was part of the package.
For over a decade, businesses have been buying land, grossly inflating the value through sham appraisals, then putting a conservation easement on the land and selling off the charitable deductions to investors — at those hugely inflated valuations. A bipartisan core of legislators had been pushing for a remedy to this pernicious practice, which had cost taxpayers billions of dollars, and had cast a shadow on all the legitimate land trusts and easements that protect land across the nation.
You can read more here: https://www.cnbc.com/2022/12/28/spending-bill-to-prevent-abuse-of-tax-incentives-for-land-conservation.html
Ozark Holler
The most recent edition of the Ozark Holler, focused on Community Conservation, was recently sent to our supporters.
If you would like to support OLT and receive the print edition of the Holler, let us know by using the link below for end-of-year donations, or dropping us a note at [email protected] and we can send you an envelope in the mail.
Our Preliminary 2023 Meeting Calendar
We'll be sending out a postcard to supporters in early 2023 with our specific meeting dates, but right now we want to make sure you know where and when our outreach meetings will be:
April: Springfield, MO with a tour of one of our landowner partner's extraordinary properties along Bull Creek, followed by a reception for our supporters.
June: Our Annual Meeting weekend is slated for Washington, MO.
October: A visit to another of our wonderful landowner's properties in North Central Arkansas.
More info to come. Stay tuned!
Board and Committee Recommendations
It's that time again! We want to know if you have ideas for prospective OLT Board and committee members. In June, the Board will review our Governance Committee's recommendations for any proposed Board members. But we also from time to time consider proposed members for our Finance and Fundraising and Outreach committees as well. And our Members Advisory Committee comprises a number of our generous supporters and landowner partners who want to learn more about OLT and brainstorm about our future activities.
Feel free to contact me at [email protected] if you have ideas for involvement or want to discuss possible participation in more depth.
Last Call for 2022 Donations
It's not too late—you can make your tax-deductible contributions to OLT through December 31. Either mail in your support or donate at www.ozarklandtrust.org/donate and help support conservation in the Ozarks. If you want to email us about it, drop me a note at the email above and I'll get back in touch.
This has been such a busy and productive year for us, and YOU are the reason we are able to do so much to protect our precious Ozark lands.
THANK YOU and may you have a safe, healthy, and enjoyable New Year with your loved ones.