Welcome to our Newest Staffer
In our last newsletter, we welcomed our newest board members Dr. Diana Gray, Dani Hoefer, and Peter Hofherr. This month, we welcome our newest staff member, Haley Smith!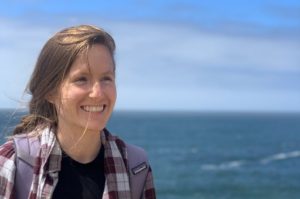 Haley is from Springfield, MO but most recently has been working as a Natural Resource Specialist and Assistant Watermaster for the Oregon Water Resources Department. She holds a Bachelor of Science in Wildlife Biology Degree from Missouri State University. As a Conservation Specialist for Ozark Land Trust, Haley will work on stewarding our lands and have a featured role in our work in the Meramec River watersheds, which has been an OLT focus for several decades. Welcome, Haley!
And at the same time, we say goodbye to Abby Cyr, who served as our Conservation Specialist, and wish her well in her new endeavors.
Year End at OLT
Many think of the end of the calendar year as the time nonprofits make their pleas for support. We do that, of course, but there's another major aspect of our year-end work.
Often, landowners want to finish their new conservation easement transactions by year end, as there are often tax benefits to placing one's land under a permanent conservation easement. So we're busy in lots of ways, and one of those ways is to protect new lands!
So in a couple months, look for news about our newly conserved properties in the Ozarks, something we're always very excited to announce.
Climate and Conservation
If you supported us last year, you likely received our Fall 2021 Ozark Holler about Resilient Lands, those that can be managed to adapt to threats and damage from climate change.
Thanks to a generous grant from the Land Trust Alliance, we have included climate considerations into our Strategic Plan, and now we are including those considerations into the management plans for those lands we own and manage as natural preserves.
Our hope is that we can share with all our landowner partners the tactics we're using on OLT's own lands, so they have the benefit of our learning and knowledge about helping to ensure resilient lands across the Ozarks.
We thank you as always for your tremendous interest and support in OLT and we wish you the very best at the start of the holiday season!
Communities and Conservation
What does "community conservation" mean?
Well, to different people, groups and populations, it can mean a wide variety of things.
And so in our upcoming Ozark Holler, we take a look at some of the meanings of the phrase, and how we can build strong and healthy communities by incorporating conservation in a way that meets everyone's needs.
Look for the edition in about a month, and if you aren't a current supporter of OLT, you can click here to donate and receive one!