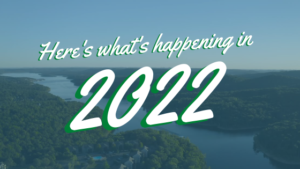 2021 was a whirlwind for OLT, as we learned lessons from 2020's onset of COVID and how we could move forward with our stewardship, new projects and conservation activities in a meaningful way. Thanks to your support, we created some great opportunities and put into place new ways for better outreach and dialogue with the general public, and our landowner and other partners! Now on to a great 2022, and here's what's coming up!
Projects: The first and foremost reason you support us is our work in protecting, preserving and restoring lands across the Ozarks in Arkansas and Missouri. We are pleased to say we are in process with half a dozen projects that could protect close to 2,000 more acres in the coming year.
Achieving that goal would increase our protected lands by 7 percent in one year alone, for an organization that has been in existence since 1984. And our team is working in partnership with landowners, other nonprofits, and state and federal agencies on major restoration work in the Huzzah Creek watershed. All of it is very exciting and all is due to your support!
Regional Meetings: OLT won a competitive grant from the Mountain Dew Outdoor Grants program – one of 40 groups chosen out of 1,000 submitted – that will help fund our regional meetings for 2022! We are planning a meeting for April 2 in St. Louis; our Annual Meeting in Springfield, MO in June, and another regional meeting in Fayetteville, AR in September. We want you all to be able to visit the sites we protect up close and personal, no matter where you reside in our beautiful Ozark region. And we'll have receptions for those who attend as well.
Keep watching this space and our social media on Facebook and Instagram for details.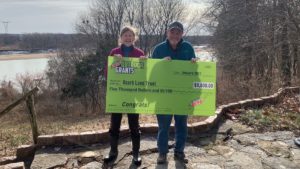 Target Circle: OLT was a recipient of support from Target customers who contributed to us through the Target Circle giving program in 2021, and we've been asked to participate again in the 1st Quarter of 2022!
If you are registered for Target Circle and you're in an area that includes OLT on the Community Giving list, you can vote for OLT and we can receive support if we our vote totals qualify!
Visit: https://www.target.com/circle/dashboard
Missouri Land Trust Coalition: Now the public and landowners have a new way in Missouri to learn about ALL the great opportunities to support land conservation through land trusts. The Coalition's new website, https://missourilandtrusts.org/, is a great source for landowners, other partners and the public to learn about the land trust community and how it helps conserve resources in so many ways. This proverbial rising tide will continue to help all the land trusts in Missouri and lead to the protection of even more lands.
Members Advisory Committee: Want to learn more about our new Committee, which comprises landowners, OLT supporters and partners? The group will meet 3 times this year and hear from board, staff and others about ways we are protecting land and supporting conservation across the region.
Let us know, or get details at [email protected]g.
Strategic Plan: Our new Strategic Plan, which will be posted in the near future on the OLT website, will guide our work over the next several years. In addition to continuing our work with individual landowners, we also have added focus on community, climate and collaborations with partner groups as important parts of our forward-thinking strategies. Major endeavors to protect our beloved Ozarks can't be done alone; the broader the initiative, the greater the partnerships required.
We are excited about the opportunities for conservation across the region in 2022. With your help, we look forward to great accomplishments on behalf of the Ozarks this year!