Giving Tuesday Update - Thank You!
A huge thank you to the many supporters who contributed on-line on Giving Tuesday, November 29th to our Grow for the Future Campaign!  We raised
$1100.00
on that day alone!  This campaign continues until
Dec. 31st
. You can contribute either online at
https://ozarklandtrust.org/donate/
or mail in a check to ORLT PO Box 1512 Columbia, MO  65205.

Holiday Stories
ORLT members and staff, Kit Freudenberg, Kathy Lee, and Peggy Horner wanted to share some of their favorite holiday experiences and recipes. We hope they will help make your winter merry and bright and make a happy new year for you and your family.
Frozen Pond, Lots of Friends and Family – and Cold Winter Days (from Kit Freudenberg, ORLT member)
I grew up in a large family – nine of us – outside of a small rural college town. We lived just across the street from 40 acres of farmland and best of all – a large pond. One time, I was skating across the frozen water and saw a muskrat swimming under the ice right below me. It turned over, looked at me and then dove into the weeds.

Christmas time reminds me of those wintery snow-filled short days, ice skating and pick-up hockey games (my brothers "let" me be the goalie), tobogganing on the Big Hill, strings on my mittens – and for some reason, everyone ended at our house for hot chocolate, Dad playing the piano for carols and telling old stories.
We didn't have much but Mom could make a feast out of the poor cuts of meat. My husband always thought pot roasts were dry and chewy until he had Mom's Cider Pot Roast. Enjoy!
Our First Holiday in the Ozarks (from Kathy Lee, ORLT staff)
It was our first holiday season in Missouri. Recently back to the United States from Germany, none of us had even been to Missouri before. I had a cousin who lived in St. Peters and she insisted we visit the Ozarks. She said there was no better time than December to see all the holiday sights and to take in the serene winter beauty of the Ozark region. So, off we went with 4 adults and 5 children in tow!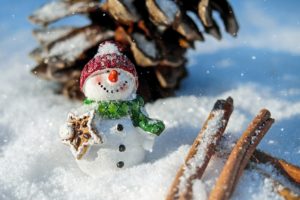 Branson was an amazing pageantry of lights, sparkle, hustle and bustle and cheer! The children loved every minute and we nearly wore ourselves out. We had no idea Missouri could put on such a show. Next up was a huge change of pace. We headed to Table Rock State Park where we learned about the White River valley and saw rugged hillsides which were much bigger than we expected. We also saw Table Rock Lake and Lake Taneycomo.
We enjoy winter hiking, so we bundled up and went down part of the Chinquapin Trail to get our first intimate look at Ozark woodlands and glades. My daughter caught sight of a bald eagle and we all stopped and stared. Even the children were affected by the serenity, beauty, and wildlife around them as they talked in whispers for the rest of the hike. This wandering family had found their escape, and our hearts were to be forever turned to the Missouri Ozarks!
---
It's Not Too Late!
For the third year in a row, ORLT supporter Dave Hartig is issuing a challenge to you and the Ozark community. For every dollar you donate, from now until the end of the year, Dave Hartig will match it up to $10,000! 
On top of this great challenge is Giving Tuesday, an annual global event where people from around the world give to their favorite non-profit organizations. We encourage you to give to Ozark Regional Land Trust on this day as your contribution to the Dave Hartig Challenge. This day of giving occurs the Tuesday after Thanksgiving, November 29th, 2016.
I want to get on with the work of preserving as much land as possible

- David Hartig

Winter Recipes
Kit's Cider Pot Roast
Ingredients:
¼ cups apple cider
3-to-4 pound beef chuck roast
1 tablespoon light brown sugar
2 teaspoons salt
2 tablespoons vegetable oil
¼ teaspoon ground cinnamon
¼ teaspoon ground ginger
2 whole cloves
All purpose flour
Instructions
Combine the cider, brown sugar, salt, cinnamon, ginger, and cloves in a medium bowl. Put the beef in a 1-gallon zipper-lock bag and pour in the marinade. Let marinate in the fridge for 24 hours, jiggling the bag whenever you think of it.
Remove the beef from the marinade; reserve the marinade. Dredge the beef in the flour on a large plate. Heat the oil in a Dutch oven or flameproof roasting pan over high heat and brown the beef on all sides, about 15 minutes. Reduce the heat to low, add the reserved marinade, cover and simmer for 3 hours or until very tender.
Let the roast rest for 10 minutes, then slice and serve with hot mashed potatoes or small boiled potatoes.
Note – thicken the gravy, if you'd like, with 2 tablespoons all-purpose flour and ½ cup tepid water shaken together in a covered jar and whisked into the simmering juices. Serves 6-8.
Peppermint Bark
Executive Director Peggy Horner says the season makes her think of peppermint and candy canes! She also loves chocolate so that's why her favorite recipe is Peppermint Bark! Here's her favorite recipe:
Ingredients
8 ounces semisweet chocolate – break into small pieces
8 ounces white chocolate – break into small pieces
2 tsp oil
1/2 tsp peppermint extract
30 peppermint candies, crushed
Instructions
Lightly grease a 9X9 inch pan and line with waxed paper. Set aside.
Place the semisweet chocolate and 1 tsp of the oil in the top of a double boiler over just barely simmering water. Stir frequently to avoid scorching. When the chocolate is melted, stir in ¼ of the peppermint extract. Pour the melted chocolate into the prepared pan, and spread over the bottom of the pan evenly. Sprinkle half of the crushed peppermints over the chocolate layer. Refrigerate until hard – about 1 hour.
Place the white chocolate and the remaining 1 tsp of oil in the top of a double boiler over just barely simmering water. Stir frequently to avoid scorching. When the chocolate is melted, stir in the remaining peppermint extract. Pour the white chocolate directly over the semisweet chocolate layer and spread evenly. Sprinkle the remaining crushed candy over the top and gently press in. Refrigerate until completely hardened. Remove from pan and break into small pieces to serve.