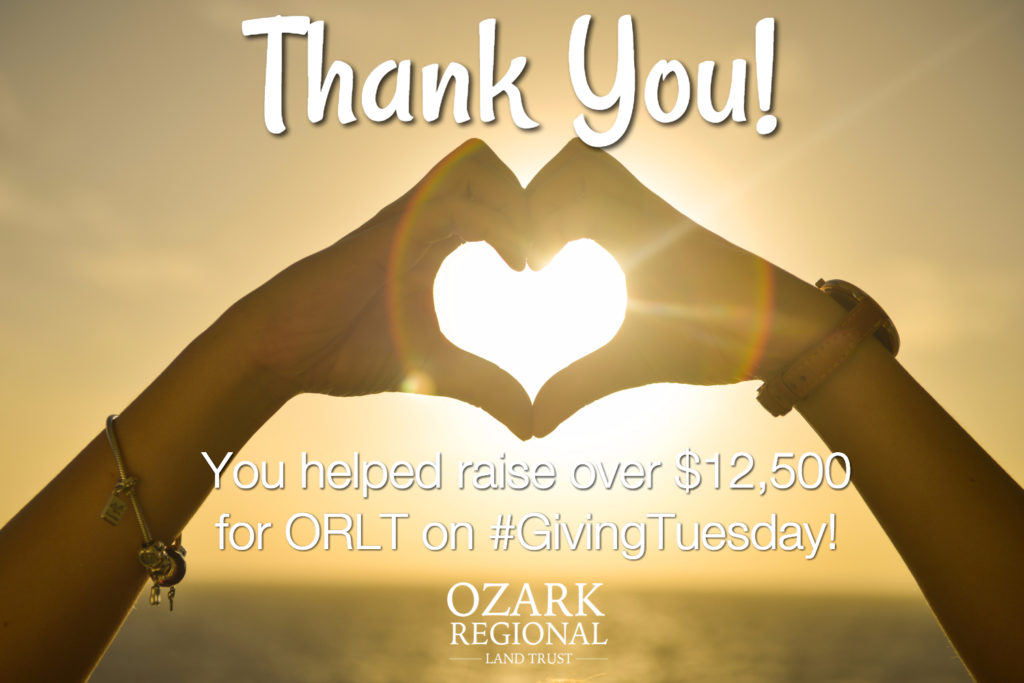 Thank You! You helped raise over $12,500 for ORLT on #GivingTuesday!
ORLT supporters joined the national movement on #GivingTuesday, a Day of Philanthropy, by exceeding our match goal and helping to conserve another 358-acres by raising over $12,500!
Your support is necessary to protect the Ozarks as a living legacy in Missouri and Arkansas. Thanks to these contributions, landowners keep working their lands, scenic areas are preserved, waterways are protected, nature and our Ozark heritage is conserved.
To keep moving forward, ORLT still needs your help. An additional $23,800 is needed to reach our goal protect 680 more acres to be conserved in the next few months – about $35/acre
Please consider making a gift by clicking here to keep ORLT protecting the Ozarks. And thank you for making 2017 a great year for the Ozarks! 
Look what you helped accomplish!
Ozark Regional Land Trust is 34 years old and going strong in Arkansas and Missouri
Over 28,000 acres of Ozark lands conserved forever
Over 125 landowners served
1 new property with scenic bluffs along the Missouri River conserved in 2017 (see story below)
3 more properties ready to be permanently conserved in early 2018, including working lands, scenic views, and a Civil War battlefield
3 additional properties in queue to be conserved by the end of 2018

New Easement Exemplifies Family's Legacy of Missouri River Protection
A newly completed ORLT conservation easement will protect a highly visible remnant of native forest and agricultural lands within the greater St. Louis area, land that would otherwise be a prime target for development.
The Louis and Anne Desloge Werner Memorial Conservation Easement protects 205 acres in Florissant that includes about 2/3 mile of Missouri River shoreline and adjoining bluffs, forestland, and fields.
The land features steep loess hills with lush forests. Impressive red and white oaks prosper there due to the site's excellent growing conditions. It is an important bird area that is currently being considered for special designation by the Audubon Society.
Provisions in the conservation easement will ensure that the property will never be converted to other uses and it will continue to provide wildlife habitat. The easement prohibits mining and commercial, industrial, or residential development. Agriculture and forestry, using best management practices, are allowed by the easement.
The easement, donated by siblings Elise W. Crosby, Louis Werner, and Peter Werner, is the most recent in a long history of properties contributed by their family for public use.
Their mother, Anne Desloge Werner, and her siblings donated Pelican Island to the Missouri Department of Conservation. Their grandfather, Joseph Desloge, donated Johnson Shut Ins State Park in 1955.
In 1961, Joseph and his wife Marie donated acreage to the city of Florissant for Sunset Park, which adjoins the new ORLT conservation easement. Elise, Louis, and Peter also donated additional land adjoining the park, which is known as the Louis and Anne Desloge Werner Memorial Woods.
Giving Options from Stocks and Retirement Accounts

Many of our conservation supporters take annual distributions from their retirement accounts (IRA, SEP IRA, SIMPLE IRA or retirement plan account).
Did you know that one IRS provision allows taxpayers ages 70 ½ years and older to transfer up to $100,000 a year from an IRA to a charity without having to include any of that transfer as part of their income? Yes – see IRS Publication 526 which clarifies that if a qualified gift comes directly from a retirement account to Ozark Regional Land Trust, the gift is categorized as a distribution and is not treated as taxable income.
Another option attractive to donors involves making a gift of long-term appreciated securities, including stock, bonds and mutual funds directly to Ozark Regional Land Trust.  The full amount of the distribution will be used to support land conservation and the donor does not pay capital gains tax on the appreciated asset.  Investors can support ORLT by gifting appreciated stock; not only would there be no capital gains tax but the appreciated value of the stock can be taken as a deduction. Practice smart portfolio management and benefit ORLT at the same time! Contact your advisor today to discuss stocks that might be candidates for gifting.
Questions? Please call ORLT office at 573-817-2020 to discuss an end-of-year distribution that shows your commitment to land protection and conservation in the Arkansas and Missouri Ozarks. Thank you.