June is a great time to watch our feathered friends. Many species migrate through the Ozarks from Central America to northern Canada – and many more stay here to nest. But how often do you really LISTEN to them? We can hear far more than we can see.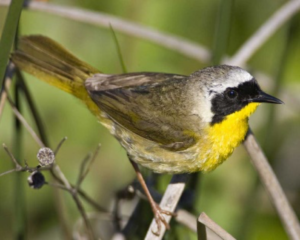 Step outside early in the morning and you will hear a cacophony of whistles, peeps, warbles, and trills. Some of these birds are common at your bird feeder – like goldfinches, sparrows, cardinals, woodpeckers, and hummingbirds. Some you see just flying around your yard, like robins and bluebirds. But most stay high in the leafy trees or thick underbrush - so they can only be identified by their song.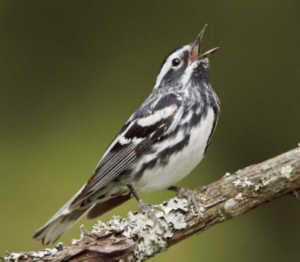 Learning all the Ozark bird songs can take many years, and most bird enthusiasts learn the songs by translating them into a catchy phrase. Nowadays, there are birdsong Apps to help you learn. For example – the Common Yellowthroat is a beautiful bird who sings "witchity, witchity, witchity, witchity". It's usually in the brushy understory or thick tangled vegetation. If you have binoculars, you can sometimes see it flitting around from bush to bush in search for insects.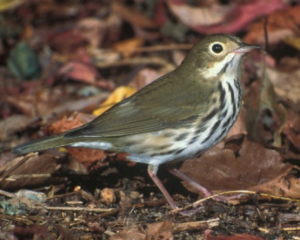 The Black and White Warbler sounds like a squeaky hinge on a door opening and closing many times. The pitch is a high and clear, and once you hear it, you won't forget this striking bird or its song!
Although not especially beautiful, the ovenbird lives in the deep forest floor and thickets of the Ozarks. Its song is easy to remember since it repeatedly sings "teacher, Teacher, TEACHER" – with every word louder and more emphatic and insistent than the word before it – like a child trying to get their teacher's attention – shouting at the end.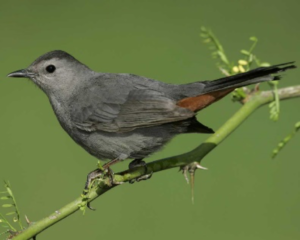 And then there's the catbird. If it flies by you, it will be a non-descript gray bird. But when it calls from the bushes, you will think there's a cat 'meewing'.
You can learn more about these birds and listen to their songs simply by googling them – or asking Siri or Alexa to find and play their songs for you. Happy listening!
Schulze Grand Opening Recap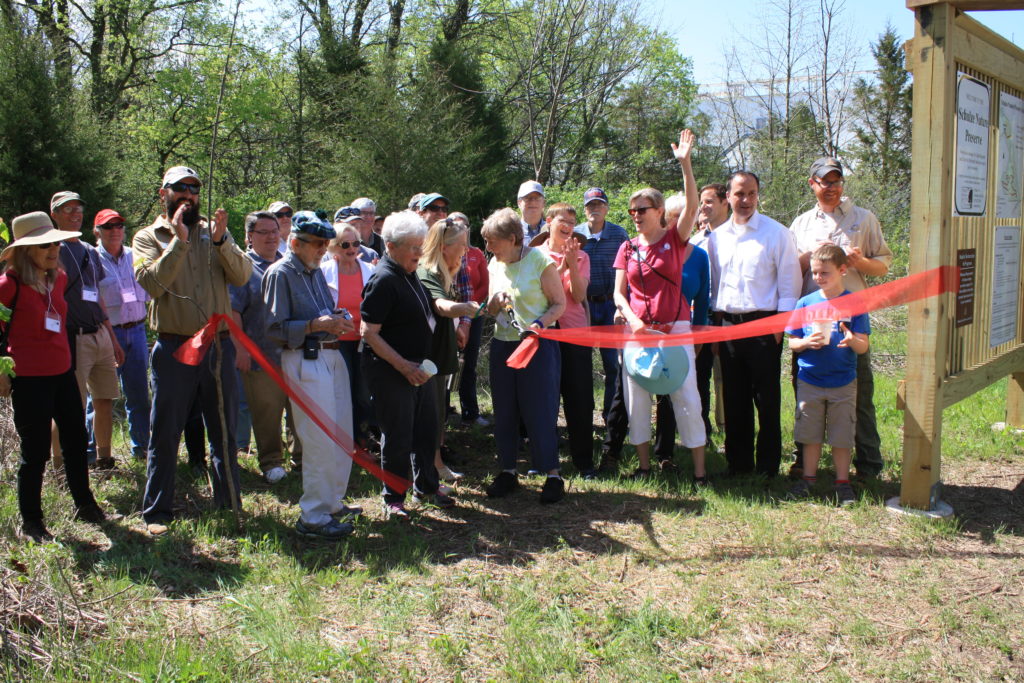 This month was a very proud and exciting day for Ozark Regional Land Trust as we celebrated the grand opening of the Schulze Nature Preserve!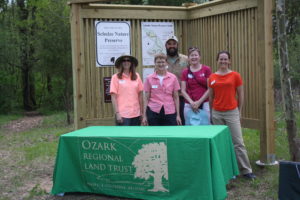 Schulze Nature Preserve is a beautiful property owned by ORLT. It has been a focus of the organization, its staff and dedicated volunteers to create this nature preserve and open it to the public. On Saturday, May 5th, we did just that! The big ribbon was cut in the presence of many ORLT supports along with members of the Schulze family and friends.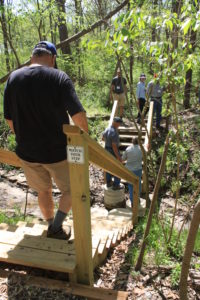 Your ORLT staff was also there in force to share this momentous occasion where ORLT has not only preserved a 22-acre parcel of land but made it available to the public for future generations to enjoy.
The Schulze Nature Preserve includes 1.2 miles of trail that circles the beautiful expanse of the property. Pictured here is one stream crossing "bridge" that was constructed with built-in "stepping" stones for when the water level rises and easy to climb steps on either bank of the stream,
More information, including directions to this new nature preserve, can be found here: https://ozarklandtrust.org/schulze/
Ozark Regional Land Trust's Annual Member's Meeting and Guided Missouri River Canoe Float Trip

When: Saturday, June 9, Columbia, Missouri
Where: Orr Street Art Studios - 106 Orr Street Columbia, Missouri
Pre-registration required for both the meeting and the float trip.  Email: [email protected] or call the ORLT office at 573-817-2020. Float trip  cost is $35.00 per person. Special Guest Speaker – Dave Murphy, Missouri Department of Conservation Commissioner
Agenda
9:30 – 12:15 Membership Meeting
12:15 – 1:00 – Lunch (provided)
1:15 – Depart for Missouri River Canoe Trip
After lunch, drive to Rocheport (20 min. west) for a canoe trip led by a Lewis & Clark historian and River naturalist with Mighty MO!  ORLT members will join board members and staff on a guided canoe trip from Rocheport, MO downriver to Huntsdale – a total paddle of 6.6 miles on the Missouri River.  Might MO's super stable touring kayaks and canoes make this trip do-able for beginners and long-time paddlers alike. Most first-timers are amazed at how accessible, easy & safe their first paddle on the Missouri River can be.  We'll use the river and the sandbars as our classroom as we talk about the area's Lewis & Clark history, how the river has changed in the last 200 years and more! Once we arrive in Huntsdale, you can ride back in the Mighty-MO shuttle vehicle or grab your bike off their shuttle's bike rack and pedal the 6.6 miles back to Rocheport.  Visit http://www.mighty-mo.com for more information.
ORLT Memberships and Renewal

It's that time of your again to reaffirm your dedication to protecting our Ozarks with a membership to Ozark Regional Land Trust! Whether you are a long time member, first time donor, or interested in giving a membership as a tribute or gift, your support is integral to our success.
Together, we have saved nearly 30,000 acres of Ozark land and with our newly acquired accreditation, we will be able to better continue our efforts to protect and preserve this land for future generation to come! Please visit our website and click "Membership & Donations" to sign up or renew online or by mail. Or, simply click here. Thank you for your continued support!

Wood's Prairie Evening Wildflower & Pollinator Walk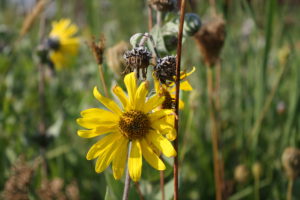 Save the Date!  The Woods Prairie Evening Wildflower and Pollinator Walk is happening June 22 from 6:00 - 7:00 p.m.  
Check the events page of our website or call the ORLT office at 573-817-2020 for more details as they become available!