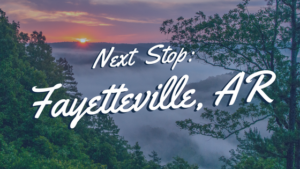 Arkansas Regional Meeting: September 24-25
Our Arkansas Regional Meeting is coming up the weekend of September 24th. This is a great opportunity to learn more about our work and our partnerships in Northwest Arkansas.
On Saturday, September 24th at 1 pm, we'll visit two of OLT's protected sites near Fayetteville. First, we'll visit our New Pear Farm agricultural property, where we and our partners employ best conservation and restoration practices for habitat protection and to sustain the land. We also have recently completed a climate resilience plan that we hope to implement over the next several years.
After our tour at New Pear we'll travel to our Bayyari Conservation Easement. Adjacent to the Fayetteville public park with the same name, this land provides an excellent nature experience as well as many bird sighting opportunities along the adjacent West Fork of the White River.
Our final stop will be at Sassafras Springs Vineyard and Winery. We'll have a deck with beautiful views available to us and you can meet other Board members, OLT staff and just have a nice visit with other conservation supporters like you!
Then on Sunday the 25th, if there's interest, we'll have a lovely lake float, with both canoes and pontoon boat. We'd love to have you join us during any or all of this tour and meeting.
Please RSVP to our Conservation Specialist Abby by August 31 and let her know if you would like to RSVP for Saturday, Sunday, or both days.
Email [email protected] to RSVP and we'll have directions to each stop for you before the weekend.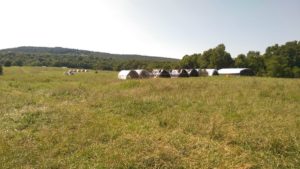 OLT is Hiring
OLT is hiring for both a Conservation Specialist and a Marketing & Development Manager.
If you have a passion for Ozarks conservation with the skills and experience to match, tell us about you! Or if you have friends who might be interested, pass it on.
You can find more information about these jobs on our News page.
https://ozarklandtrust.org/news/ 
Meet our New Officers and Board Members
We are so pleased to have Karen Massey as our new Board President, following the tireless and stalwart leadership of Jim Reeves. Nick Thurwanger remains as Treasurer and John Klovern becomes our Secretary. We have three great new Board members too!
Dr. Diana Gray joins us, with an expertise in medicine and a substantial tenure at the Washington University School of Medicine in St. Louis.
Danni Hoefer is an attorney for Entergy in Little Rock, Arkansas and brings her legal and community service experience to OLT.
Peter Hofherr, the CEO of St. James Winery, also joins the Board, bringing substantial knowledge about an important part of the Missouri agriculture landscape and economy.
We welcome them each to OLT and we are grateful to have those with such wisdom and expertise on our Board.
We say goodbye to Board members Connie Johnson, Jeff Rosenblum and Steve Schueppert, who have made incredible contributions and who will remain friends of OLT in various capacities. We wish everyone well!