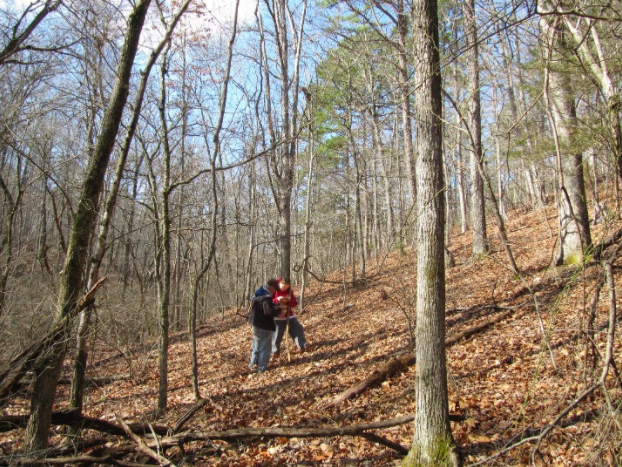 (Columbia, MO) – Ozark Land Trust is proud to announce the first issuance of carbon offset credits associated with the Alford Improved Forest Management Project, a joint effort among OLT, Utah-based Bluesource, and Alford Forest Inc (AFI).  The credits were issued by the California Air Resources Board.
The Project is located in southern Missouri on the Alford Forest, OLT's largest single directly-owned conservation property, comprising over 3,200 acres of mixed hardwood forest in the Ozark bioregion.   Generating nearly 79,000 metric tons of carbon dioxide emission reductions in 2019, the equivalent number of offset credits were sold through the Project into the California cap-and-trade market.
AFI, OLT's lessee and supporting organization, has committed to manage the forest through sustainable forestry techniques. By harvesting trees with the health of the forest in mind, the project allows the forest to continue sequestering carbon at a higher-than-average rate. The project can generate offset credits for 100 years, and monitoring of carbon stocks on the property will continue 100 years past the last year of credit issuance.
"We are so grateful to our partner AFI and to Bluesource for shepherding this very important project, which supports conservation utilizing quality practices that promote sustainable forestry," said Ozark Land Trust President Jim Reeves. "We appreciate the ability to collaborate to protect the long-term health of this essential natural resource."
Bluesource completed the carbon calculations on the property and ushered the project through a series of standards bodies and third-party auditors. "The Alford project is a shining example of how the California carbon market continues to drive sustainable actions, benefitting both landowners and the environment. The carbon credits incentivize landowners to manage their land in ways they wouldn't otherwise do, all while protecting the air, water, and surrounding wildlife," said Josh Strauss, Vice President of Bluesource.
Ozark Land Trust is the operating name for Ozark Regional Land Trust, a nonprofit, tax-exempt organization that works with landowners and partners to protect resources across the Ozark bioregion. A nationally accredited land trust, OLT currently protects about 30,000 acres of forests, farmlands, and other natural landscapes for both public and private use. More information can be found at ozarklandtrust.org, on our Facebook Page, on Instagram and Twitter at @ozarklandtrust. 
Bluesource is a climate action partner for private and public companies, nonprofits, and governments. Bluesource has pioneered creative solutions to the climate crisis for over 20 years and is the largest and longest-standing carbon offset developer.