Upcoming Events
Join us in Arkansas on October 14!
Join OLT and our landowner, agency, and nonprofit partners on a tour of exceptional, permanently conserved land in North Central Arkansas. Wagon visit with experts through highlights of the 900 protected acres of ranch lands, forests and scenic views. We'll learn about why a conservation easement was so important in conjunction with the many conservation practices our landowner partner has put in place to support their forests, ranch activities, water crossings and demonstration plots.
Saturday, October 14
1-4 p.m.: Greenbrier
4:30 p.m.: Reception in Conway
All in Faulkner County, Arkansas

With very generous support from the Arkansas Forestry Association Education Foundation
Learn and have a dialogue with experts about conservation techniques such as:
How OLT conservation easements permanently protect important lands
Landowner partnerships with state and federal agencies, nonprofits and experts
Practices for pines, hardwoods, pastures and wildlife
Ranching and tree-planting Best Practices
Pond funding, methods of cattle watering/fencing, shallow water crossings
Carbon sequestration
Speakers and Resources
Larry Levin, Executive Director, and the staff of Ozark Land Trust
Theo Witsell, Arkansas Natural Heritage Commission and co-author of "Trees, Shrubs and Woody Vines of Arkansas"
Noah Wyatt, Arkansas Game and Fish Commission
Tim White, NativState, carbon sequestration
Kelly O'Mara, landscape consultant (formerly of OLT)
Chris Wyatt, Arkansas Department of Agriculture, Forestry Division Larry Nance, Ozark Forest Management Services
Representatives from USDA's Natural Resources Conservation Service, Arkansas Wildlife and the Arkansas Forestry community
And of course, our wonderful Landowner
Past Events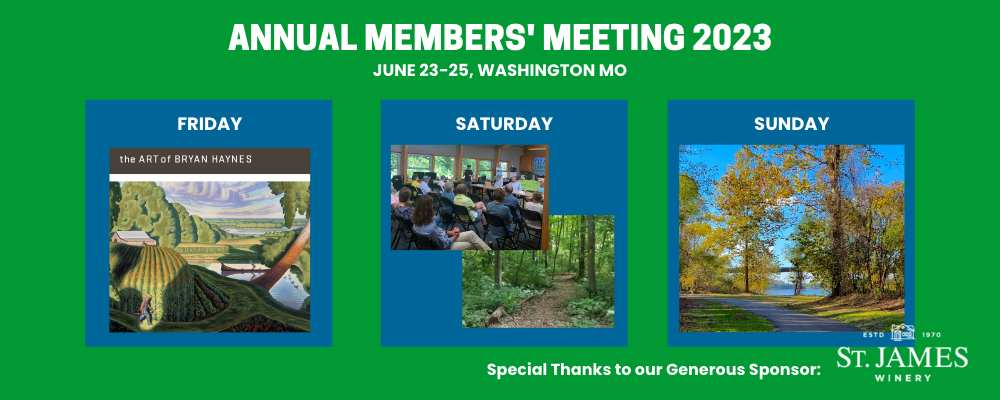 2020 VIRTUAL ANNUAL MEETING, ONLINE AUCTION AND PREMIERE VIDEO!
Ozark Land Trust is having an exciting variety of events during the week of September 7-12!
First Ever OLT Online Auction!
Our first-ever Online Auction is running from Sept 7-12 but you can register now at https://secure.qgiv.com/event/oltauction/register/
Then download the Givi app on your iPhone or Android and you'll be all set to bid on Sept 7.
Great items include a game meal at the home of MDC Director Sara Parker Pauley; fishing, hiking and birding experiences; great photography and art; and more!
Online Premiere OLT Video!
Then join us for our OLT Premiere Video on Friday, Sept 11 at 7 pm CDT about our work, our people, our landowners and more.
Our Annual Members Meeting Sept 11-12: See the Link At the Top of This Page for More Details!
Finally, our Members can join us for our Annual Members Meeting.
On Friday, Sept 11, at 10 am: We're having a brief in-person meeting at Stacy Park to vote to amend our bylaws to allow for virtual meetings and
On Saturday, Sept 12 at 10 am: We're having a Zoom virtual meeting for our Members. Info is provided below, and contact either Roxann Holloway at [email protected] or Larry Levin at [email protected] for more info!