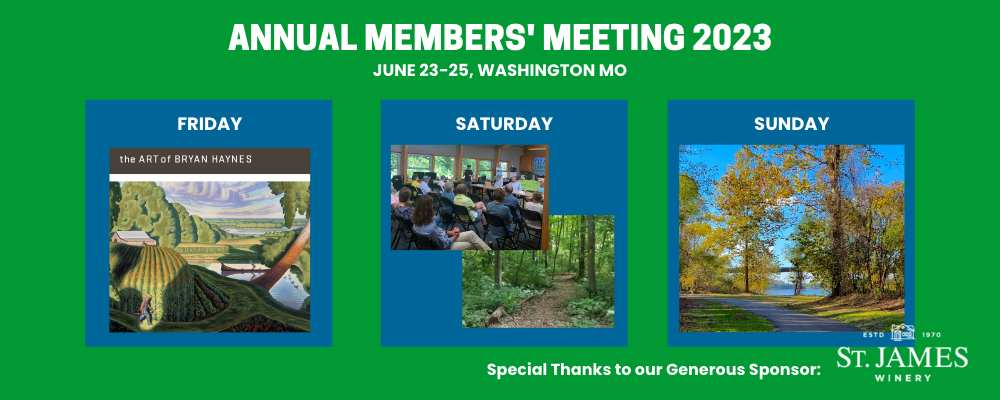 Please join us for our OLT Annual Members Meeting Weekend!
While this event is free, registration helps us prepare to make this weekend wonderful for everyone. Please select a free ticket for every event you plan to attend throughout the weekend.
If you'd like to support our Annual Meeting with a gift, your contribution would be greatly appreciated.
Full Agenda
Friday
Saturday
11:30 – 12:15
Members Meeting: Washington Chamber of Commerce
323 W Main St, Washington, MO 63090
12:15 – 1:30
BBQ lunch & Guest Speaker: Washington Area Chamber

323 W Main St, Washington, MO 63090

2:00 – 4:00
Guided Tour: Schulze Nature Preserve
5:00 – 7:00
Charcuterie and Cheese Reception: Washington Farmers' Market
323 W Main St, Washington, MO  63090
* Beverages generously provided by St. James Winery *
Sunday
11:00 – 12:30
Two Options Available:

Walk along riverfront trail and park
Visit to nearby OLT protected property
Past Events
OUR 2020 VIRTUAL ANNUAL MEETING, ONLINE AUCTION AND PREMIERE VIDEO!
Ozark Land Trust is having an exciting variety of events during the week of September 7-12!
First Ever OLT Online Auction!
Our first ever Online Auction is running from Sept 7-12 but you can register now at https://secure.qgiv.com/event/oltauction/register/
Then download the Givi app on your iPhone or Android and you'll be all set to bid on Sept 7.
Great items include a game meal at the home of MDC Director Sara Parker Pauley; fishing, hiking and birding experiences; great photography and art; and more!
Online Premiere OLT Video!
Then join us for our OLT Premiere Video on Friday, Sept 11 at 7 pm CDT about our work, our people, our landowners and more.
Our Annual Members Meeting Sept 11-12: See the Link At the Top of This Page for More Details!
Finally, our Members can join us for our Annual Members Meeting.
On Friday, Sept 11, at 10 am: We're having a brief in person meeting at Stacy Park to vote to amend our bylaws to allow for virtual meetings and
On Saturday, Sept 12 at 10 am: We're having a Zoom virtual meeting for our Members. Info is provided below, and contact either Roxann Holloway at [email protected] or Larry Levin at [email protected] for more info!