Thank you so very much for your donation to Ozark Land Trust through our website. We appreciate your generous gift and appreciate that you're following our activities at www.ozarklandtrust.org.
2019 has been extraordinary for us, and we couldn't have done it without you:
We received our national accreditation, becoming the very first Missouri land trust to achieve that distinction! This noteworthy achievement allows supporters like you, along with landowners and our partners, to know we're utilizing best and up to date practices in the work we do.
We've added hundreds more acres to the land we steward, bringing us to about 30,000 acres of protected natural resources across the Ozark region.
We've celebrated our 35th anniversary with a new logo and a new motto: Conservation Close to Home. We want to protect your outdoors, your recreation and all your connections to the region's scenic beauty.
Thanks to your gift, we work together to protect the great and unique character of the Ozarks. Contributions such as yours help us conserve those
things we care so much about — our region's pristine land, forests, waterways and more.
It takes a team, a partnership, a family of people who share your passion for conserving and protecting our unique and important resources. We're so grateful to have you as a partner in this tremendous and important work.
Thanks again, and onward to a great 2020!
Sincerely,
Larry Levin
Executive Director
Ozark Land Trust is a federally tax-exempt organization pursuant to Section 501(c)(3) of the Internal Revenue Code. Your gift of $____ depending on your individual circumstances, may be tax deductible. Please save this email as a receipt of your gift. No goods or services were tendered as part of your payment.
Follow Us on Facebook and Twitter, and keep visiting our website at 
www.ozarklandtrust.org
 for more news about our work together!
Larry Levin
Executive Director
Ozark Land Trust
314 420 0460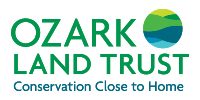 Please follow these instructions to complete your mail-in donation:
Make a check payable to "Ozark Regional Land Trust"
Please mail your check to:
Ozark Regional Land Trust
PO Box 1512 
Columbia, MO 65205 
Please send your check within 5 business days of submitting this form. All contributions will be gratefully acknowledged and are tax deductible. Thank you!