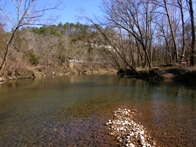 At 3,267 acres, Alford Forest is OLT's largest land holding and serves to protect important forests, wildlife habitat, and stream corridors in Ozark County, Missouri. The crystal clear Bryant Creek, among the Ozarks' most pristine streams, flows through Alford Forest and is one of a few waters to still contain the critically imperiled Ozark hellbender. The Missouri Department of Conservation has noted that Ozark County has the most black bear sightings of any county in the state.
The land constituting Alford Forest was purchased in 1945 by John Alford, who wanted a place where his children could go as a refuge from city life. His daughter, Miriam Ella Alford, came to own the forest in the 1970s and consulted with local and regional conservationists for the next twenty years about how to care for the forest and to ensure its long-term protection.
From 1998 to 2005, Ella donated the entirety of Alford Forest to OLT and also donated conservation easements on more than 1,000 acres of neighboring lands. Ella passed away in December 2005, not long after completing these gifts that are a lasting conservation legacy.
Today, Alford Forest is managed by a separate non-profit organization called Alford Forest, Inc., that is directed by David Haenke. David pursues ecologically sustainable forestry methods that seek to improve the forest over time by removing trees of poor quality or that are too thickly stocked. Over time, these practices will result in a healthier forest and higher quality wood products.